Ventura County, "home of the two trees,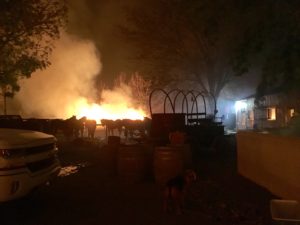 " has a whole new meaning in light of the Thomas fire. When the smoke cleared above the Ventura hillside revealing housing tracts that were devastated by the fire's rampage, the iconic two blue gum eucalyptus trees had survived. The trees, clearly visible from the 101 freeway, sit on a knoll on a property stewarded by Richard and Bonnie Atmore on the Rancho Ventura Conservation Trust.
The Atmore's home and office building on their adjacent ranch is roughly two miles up Sexton Canyon, far from the reach of firefighters. As the fire moved rapidly westward, like many farmers and ranchers across the county, they were left to desperately defend their structures and animals through the night.
In the end, 91 acres of avocados were devastated and dozens of cattle and countless wildlife were lost as high winds whipped the fire through sagebrush and oak trees across the nearly 6,000 acres under their stewardship. While their home, office and horses were saved, the loss of vehicles, other structures and equipment will significantly impact both the ranch and conservancy operations.
On the Atmore properties, moving cattle around to graze pastures has been a key component in managing sagebrush for generations. And while the fire damage is overwhelming, without the grazing operations, the dwellings, office, barn and stables could not have been saved by his family and ranch foreman.
In fact, Rich can show on maps how the grazing operation in the hills above Foothill Road between Barlow Canyon and Arroyo Verde Park was effective in limiting brush height and reducing fuel loads, allowing firefighters to save most of the houses in this area north of Foothill Road. Please join us in thanking the Atmore's for reducing casualties of people, wildlife and structures. Their efforts saved homes in the City of Ventura, protected the two trees living monument and reduced the fuel and intense heat of the Thomas fire as it passed through their lands.
Tags: Atmore properties, calfire, creek road, fire, monterey, ojai valley, Rancho Ventura Conservation Trust, socal, thomas fire, treasure our farms, Ventura County