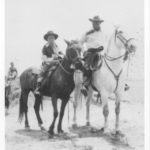 The Terry family has been farming in Ventura County for over 120 years ever since Joe Terry left Portugal and came to California to farm in 1890. Terry Farms specializes in row-crop production, growing various fruits and vegetables on approximately 2,100 acres annually.
William Terry is a fifth-generation Ventura County farmer who works as vice president and chief operating officer of Terry Farms, Inc and works alongside father Edgar Terry (Joe's great grandson), his brother Joe,  Edgar's wife Martha , son William, and daughter Alyssa.
Be sure to treasure our local berry farms and the fresh seasonal fruit!  Visit Terry Berries Recipe blog for delicious dessert recipes from strawberry breakfast muffins to gluten-free, raw blueberry citrus tartlets!