Ventura County's soil is full of farming history of families making their way to the beautiful California coast to build their homes, their farms and their futures in one of the best agriculture spots in the world.  John Franklin Cummings' dedication and pioneering spirit is what our County is built upon. Read on to hear his Treasure Our Farms story.
At 18, John Franklin Cummings was determined to head for California. For the young farmer, there just wasn't enough room on the family farm land in Ohio. So in 1853, his journey began as he traveled to New York and embarked by ship through South America to the Golden Coast of California. When John reached the Isthmus of Panama he journeyed on a shortcut with a few likeminded shipmates, hoping to save time and money. Their adventure led them through the jungle and to a second ship destined for San Francisco, California.
After a harrowing sea trip, John finally arrived in California. He travelled from San Francisco to Marysville where he farmed for five years. After, he moved to Sutter County to farm for a few years, then to his third farm on the Honcut Creek in Butte County. Four years later in 1869, he moved south to newly formed, Santa Barbara County. There he purchased 150 acres of undeveloped land in the Briggs District, which at the time, only sold for $10 to $20 an acre.
John developed his newly acquired property by growing grains. His innovative farming practices gained widespread fame in 1883, when he harvested 3,000 stacks of barley from land that had been fallow for five years. When the price of grain dropped, John began raising pigs and experimenting with a new crop; lima beans. He was recognized as having some of the best breeds of pigs from Poland, China, and Berkshires in California, raising up to 600 pigs annually. John was also one of the first men in the valley to be successful from growing lima beans, starting with 10 acres, and quickly growing to over 100 acres.
Fun Fact:  Through the years Scott, Chris, and Robert all participated in 4H and raised pigs. Robert even had a Berkshire, like great-great grandfather John Cummings.
John purchased an additional 616 acres in Wheeler Canyon, located in Santa Paula, where he planted 180 acres of walnut trees and 508 acres of hay, in addition to his other crops of lima beans, corn, and potatoes. John was known for his green thumb, harvesting 16-foot-high crops of corn and three large crops of potatoes in one season.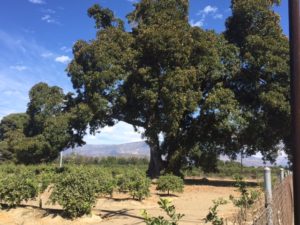 John Franklin Cummings was also known for his hospitality and generosity. On his Telegraph Road property he had planted a Morton Bay Fig tree, which still stands to this day, to provide shade to weary travelers. On Sundays, everyone knew the place to be was Cummings Ranch for horse racing. Even President William McKinley knew John Cummings after being presented with a bear tusk during a visit to Ventura.
In 1880, John married Miss Georgia Sweeney from Canada. Georgia had left her hometown, and moved to San Francisco where she met John, who was 20 years her senior. The two fell in love, and Georgia accepted John's proposal. Together they had five daughters and four sons. Two of the sons, Walter Wallace and John Franklin Jr., worked on the ranch with their father. This love of working the land was passed onto his sons who continued the family trade in agriculture.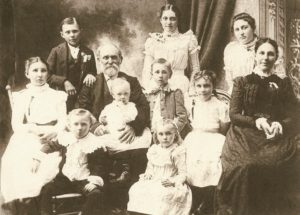 Walter married Lula Sewell, who also came from another agricultural family in Ventura County. Her family moved to the Santa Paula area in the late 1800's and grew lima beans, alfalfa, and citrus. Together, Walter and Lula rented the Wheeler Canyon property from Walter's father and planted apricots in addition to the fields of hay.
In the early nineteen-twenties, Walter and Lula moved back to the home ranch, where Walter made a number of permanent improvements, including constructing new farm buildings, the planting of 75 acres of walnuts and the planting of 100 acres of lima beans.
Walter and Lula had four children; Caroline, Georgia, Helen and Richard. Richard took over the responsibilities of the ranch after his service during World War II. He married Joanne Muller and they lived in the same house in Wheeler Canyon as his father and mother did as newlyweds. Richard raised pigs, cattle and sheep on the Wheeler Canyon property and citrus on the Middle Road property.
Richard and Joanne carried on the family name at the Middle Road property raising their three children; Stephen Wallace, Paula Joanne, and Suzanne Elizabeth. In 1999, when Richard passed away, the three kids stepped up to continue accomplishing all the great work Richard had done. Joanne supervised, while Steve became the foreman and Suzy the bookkeeper.
Today the fifth generation of the Cummings family continues on with Steve's sons, Scott and Christopher. They work on the ranch while Steve manages the property.
For Treasure our Farms, this is our most important message, that of valuing our farms and ranches and the blazing pioneers who worked them and succeeded, and are still working today. It was John's steady hand on the farm that makes him one of our most special Ventura County pioneers. We need your support so that more folks know and enjoy our Ventura County Treasure stories like the Cummings Family.
Truly we are blessed here in Ventura County. All that remains is for us to determine how we may help sustain our local farm families and how we can continue to Treasure Our Farms.  Treasure Our Farms team thanks Suzy Cummings and the entire Cummings family for letting us share their wonderful stories.
Ventura County farmers and ranchers are the stewards of our lands. We thank them for sharing their stories of family farming with us.  Ventura County agriculture faces unprecedented challenges to our future sustainability. Water, regulations, restrictive land use, urbanization and more present grave risks to losing our industry as a whole.  One more reason to Treasure Our Farms.
Tags: cummings